Skrinkle Yurt
Sleeps up to 4 people
Double bed | 2 single futons |

Dog friendly
Inside Skrinkle Yurt
Beautiful Skrinkle Yurt is based on traditional Mongolian yurt design, offering a wonderful open-plan space to enjoy chilled out glamping adventures.
Our yurts are 20ft in diameter with full height walls and doors so you wont be short of space. And with a built-in internal log burner, you won't be cold at night either!
The beautifully handcrafted furniture provides you with a double bed, two single futons as well as a small dining table and chairs; just perfect for a family or couple. Our yurts are even dog friendly - woof!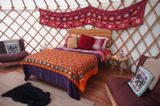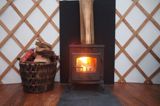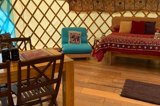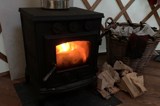 Outside Skrinkle Yurt
In your private outdoor space you'll find a covered camp kitchen with a gas ring cooker as well as a BBQ, campfire, stargazing bench, firepit and outdoor solar/battery lights to light the way in the dark.
And when al fresco dinner is done, simply relax and unwind in your private wood-burning hot tub...
You even have your own outdoor stargazing shower and compost toilet for a truly 'outdoor' glamping experience. But don't worry! There's also a modern shared shower block with 'proper' toilets and showers a short stroll away.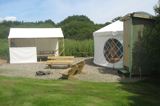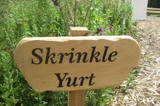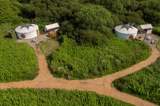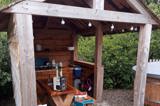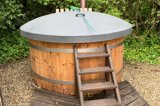 About Skrinkle Haven
The cliffs are just spectacular on this stretch of coast, only a short 15-minute drive from Florence Springs.
This picture perfect, undisturbed sandy bay and it's smaller (but no less beautiful) neighbour, Church Doors Cove, are located approximately one mile south east of Manorbier.
Skrinkle Haven beach has an interesting geological formation. It is made from limestone and red sandstone cliffs which have eroded over time and resulted in it becoming secluded. The beach is reached via steep steps which may be challenging for some visitors. However, there is also a picturesque picnic site at the top of the pathway that allows you to take in the views over the bay.