Pen-y-Cwm Yurt
Sleeps up to 4 people
Double bed | 2 single futons |

Dog friendly
Inside Pen-y-Cwm Yurt
Beautiful Pen-y-Cwm Yurt is based on traditional Mongolian yurt design, offering a wonderful open-plan space to enjoy chilled out glamping adventures.
Our yurts are 20ft in diameter with full height walls and doors so you wont be short of space. And with a built-in internal log burner, you won't be cold at night either!
The beautifully handcrafted furniture provides you with a double bed, two single futons as well as a small dining table and chairs; just perfect for a family or couple. Our yurts are even dog friendly - woof!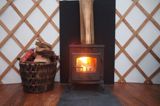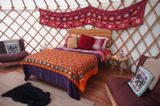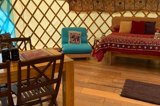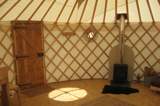 Outside Pen-y-Cwm Yurt
In your private outdoor space you'll find a covered camp kitchen with a gas ring cooker as well as a BBQ, campfire, stargazing bench, firepit and outdoor solar/battery lights to light the way in the dark.
And when al fresco dinner is done, simply relax and unwind in your private wood-burning hot tub...
You even have your own outdoor stargazing shower and compost toilet for a truly 'outdoor' glamping experience. But don't worry! There's also a modern shared shower block with 'proper' toilets and showers a short stroll away.
About Pen-y-Cwm Beach
Pen-y-Cwm Beach (also known as Pwll March) can be found at the northern end of Newgale beach, around a 45-minute drive from Florence Springs.
It can be reached at low to mid-tide by walking along the shore from Newgale, and at other times via the coast path. Alternatively, there is some roadside parking at Penycwm, from where a public footpath follows the line of a former tramway down the valley to the beach.
The beach is sandy, with rocks and plenty of rockpools, and backed by cliffs of sandstones, conglomerates and shales. Further to the north is the small beach of Cwm-bach which can only be reached along the shore at low tide.