King's Quoit Hideaway
Sleeps up to 6 people
Double bed | Bunk beds | 2 single sofa beds (max. 4 adults)
Inside King's Quoit Hideaway
Fully insulated and featuring an internal log burner, King's Quoit Hideaway is super cosy - we even supply your wood! 
Each hideaway is 12ft x 22ft (240 square feet) and split into two rooms. The main living space has a rustic and cosy sitting area, log burner, breakfast table and chairs, L-shaped sofa/single beds (which can be joined to make a double), cabinet bunk beds and double doors leading onto the rear decking and garden. The second room is a private double bedroom with storage for luggage.
Solar-powered lights will keep you lit up at night!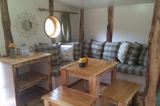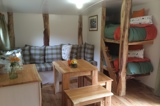 Outside King's Quoit Hideaway
With natural grass and flower roofs, rustic wooden exteriors and charming round windows and doors, our beautiful hideaways blend perfectly into the surrounding environment.
King's Quoit Hideaway has a private garden, small rear decking with seating, wood-burning hot tub, covered rustic wood kitchen (fully equipped), gas BBQ with hob, picnic table, camp fire, stargazing benches and even a private outdoor shower and compost toilet! But don't worry - the modern shower and toilet block is also a short stroll away.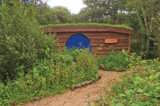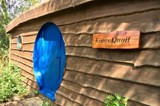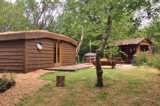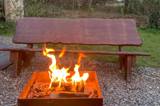 About King's Quoit Burial Chamber
Two small side stones support a striking capstone in this small Neolithic chambered tomb, or cromlech. The tomb is beautifully perched in a dramatic location above Manorbier Bay with views across to Manorbier Castle - only 10 minutes' drive from Florence Springs and right on the Pembrokeshire Coast Path.
This type of chamber is known as 'sub-megalithic', that is, only part of the capstone is supported by upright stones while part rests on the earth or living rock, or is supported by a rock-cut pit.