Henry's Moat Hideaway
Sleeps up to 6 people
Double bed | Bunk beds | 2 single sofa beds (max. 4 adults)
Inside Henry's Moat Hideaway
Fully insulated and featuring an internal log burner, Henry's Moat Hideaway is super cosy - we even supply your wood! 
Each hideaway is 12ft x 22ft (240 square feet) and split into two rooms. The main living space has a rustic and cosy sitting area, log burner, breakfast table and chairs, L-shaped sofa/single beds (which can be joined to make a double), cabinet bunk beds and double doors leading onto the rear decking and garden. The second room is a private double bedroom with storage for luggage.
Solar-powered lights will keep you lit up at night!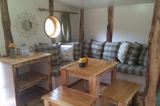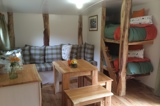 Outside Henry's Moat Hideaway
With natural grass and flower roofs, rustic wooden exteriors and charming round windows and doors, our beautiful hideaways blend perfectly into the surrounding environment.
Henry's Moat Hideaway has a private garden, small rear decking with seating, wood-burning hot tub, covered rustic wood kitchen (fully equipped), gas BBQ with hob, picnic table, camp fire, stargazing benches and even a private outdoor shower and compost toilet! But don't worry - the modern shower and toilet block is also a short stroll away.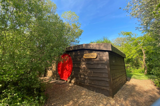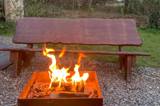 About Henry's Moat
The small motte of Henry's Moat castle was probably built by Norman invaders some time in the 11th century. It was situated near an Iron Age fort on the edge of a small river valley in the foothills of the Presceli mountains and guarded the high-water mark of Norman expansion into south-west Wales.
The damaged castle mound is around 15 feet high and 35 feet across it's top. There is a shallow depression in the centre of the motte, which may indicate that an earth-filled box rampart (the likes of which can be seen in cross-section on the Bayeaux tapestry) enclosed its upper periphery.
Find out more about Henry's Moat