Grassholm Safari Tent
Sleeps up to 6 people
Double bed | Twin beds | King size raised cabin bed
Inside Grassholm Safari Tent
We think of our gorgeous safari tents as a 'step between' our traditional Mongolian yurts and luxury lodges, with Grassholm featuring mains electricity, an indoor kitchen and shower room and even a flat-screen television!
Internally, our spacious safari tents have one double bed, twin beds and a king-size raised cabin bed, as well as an open-plan living area with TV, log burner for cosy evenings in, dining area, sofas, a fully-equipped galley kitchen with fridge, freezer box, gas hob and oven, and a shower room with toilet and basin.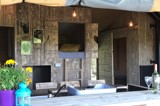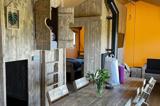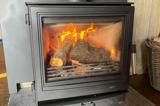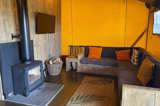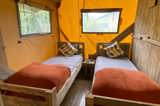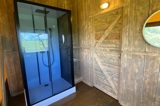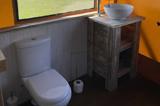 Outside Grassholm Safari Tent
Externally, Grassholm Safari Tent has a spacious veranda with garden furniture, offering views over the open field as well as the alpaca field beyond - great for keeping an eye on the kids while they play!
Then tucked around the back you'll find your own stargazing bench, BBQ and even a private electric hot tub - just perfect for relaxing in the great Pembrokeshire outdoors.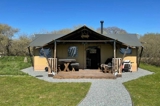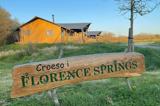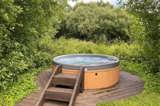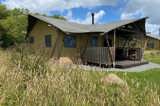 About Grassholm Island
Grassholm Island is a tiny white speck of land, 11 miles from the coast.
As you approach the island, you begin to understand why it's white. It's home to 39,000 pairs of breeding gannets, the only gannet colony in Wales and third largest in the UK.
The island comes alive in early spring, with gannets returning to the island from late February onwards. The air is filled with males returning with nesting materials keen to establish territory ready to attract a female.
Grassholm is an RSPB reserve with a strict 'no landing' policy, but several boat operators offer trips out to the island to experience the sights and smell first hand.